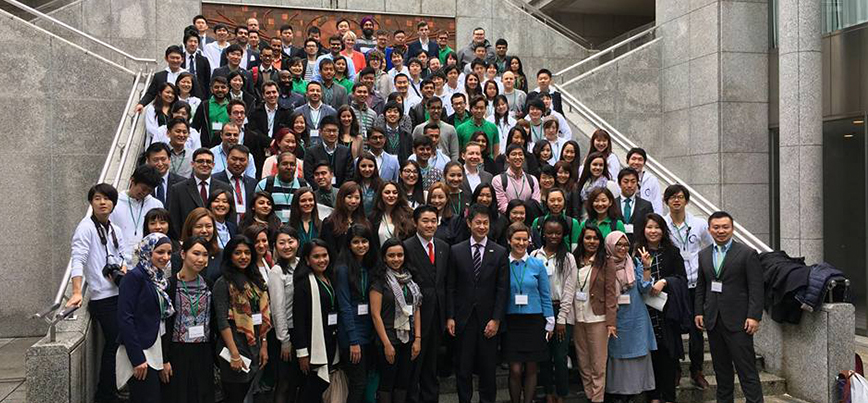 ---
I have spent the last few days in Japan, attending the Global Shapers Asia Pacific Conference. With the theme of peace, there was no more fitting place to host it than Hiroshima. I decided to attend on a whim. Finding time to disappear for a few days was not a straightforward task, between paid work, starting a new business and trying to remain very active across two volunteer roles.
I justified this random decision to myself because I wanted to learn more about how Global Shapers operate around the world. As the incoming Curator for the Melbourne hub, I've decided it's my time to step up and pay more attention to the world around me. As a hub, we're quite active but I never feel as though we're doing enough, and I really want to be instrumental in improving our standing on a global level.
On day one, I felt like an imposter. It's something I deal with all the time — the personal acknowledgment that I never feel as though I know what I'm doing and it's only a matter of time before someone calls me out. This was not alleviated by meeting more of the Shapers. They are all incredible in their own right. All doing amazing things, all working hard to improve their community. But it was the comments of others that made me realise I needed to accept my own reality of someone who is doing all of those things. That I'm not an imposter and maybe I do deserve my seat at the welcome buffet.
On day two, I felt humbled. We were given the opportunity to explore the city, and see the devastation of the atomic bomb. We heard first hand from a survivor who described in graphic detail the damage and death inflicted on the city. Right down to the detail of what happened to his skin. It was an incredible talk and moved many people in the room to tears. We then experienced how others express their desire for peace — a school group performing songs on wood pipes carved from A-bomb trees. Others express it through music, through art, through business and from shared experiences. It was a powerful series of presentations and although really heavy in content, it was positive about what we could all achieve.
It was fascinating to learn about the differences of views — that Shapers from Afghanistan viewed 9/11 as a symbol of peace because it was the first time that the world paid attention to the area and made them feel like that was the catalyst to instilling peace. It's a confronting dichotomy to how the Western world views the same date as one where we plunged ourselves into an almost unwinnable war.
On day three I was inspired. Inspired by the incredible words of people like Allison Baum who absolutely owned the first panel. I was interested (but certainly not convinced) about the views of creating shared value (CSV) by Unilever and their objectives towards 2020 and thinking about the role of brands, investment, music, and education to help move the world towards peace. It's something the cynic in me is hesitant to accept because (while I love the world of branding), I have often found the outward expressions of moving towards social consciousness to counter other corporate actions.
It was incredible to hear of the work that other hubs are doing. The variety, the drive, the overwhelming desire to change the world for the better is a powerful force. It's an addictive energy that I think affected every one of us. That was then exemplified through our workshops where (for us) we sought ways to achieve peace through travel. It's funny what happens when you put smart people in a room together and give them the opportunity to debate, discuss and seek common understanding. But the one moment that stood out was when a flash mob started between the Indian and Pakistani attendees that very quickly took up almost all the attendees. It was strange and wonderful and a huge boost of energy to the group.
During the second day, we were asked to describe a time or era that reflects peace to us. Eventually, I landed on 'the future'. I say this because I cannot think of a time in history where the world was at peace. But I looked at the people in the room and the overwhelming desire to work together to create peace and it makes me hopeful for the future. That there is the possibility to achieve it sooner rather than later. Radical changes need to be made in many ways but there was enough collective desire in that one room to have a huge influence.
It was my first time participating in a global event and I hope not my last. To other Shapers who didn't attend, all I can say is to take every opportunity granted to you. You are in a genuinely enviable position and it's not one to waste. To the Shapers I met during the event, I hope to see every one of you again soon. You made the event what it was and I am thankful for all the conversations and laughs. To those I didn't have the chance to meet, hopefully our paths will cross again. Finally, to the team responsible for putting everything together: well done. Everything was minute perfect, from the talks, panel sessions, social sessions and of course the consistent early morning wake ups.
What does this mean for me, personally? I'm not sure yet. It's going to take a while to distill the thoughts in my head. I will say this though: I want to bring Shape APAC to Melbourne in 2017. And I want to see you all there.