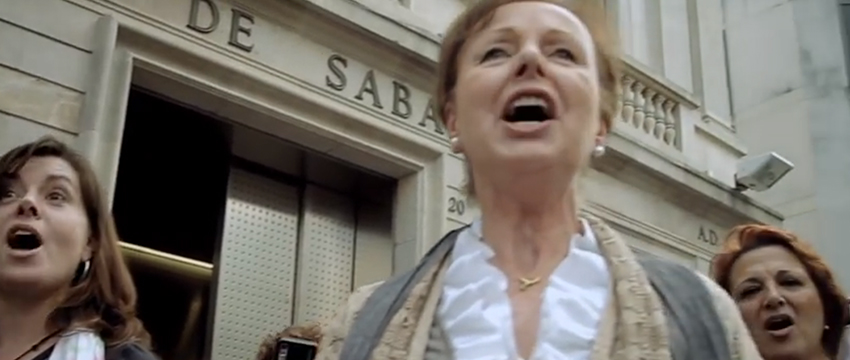 ---
A recent example of inspiring, situational marketing has come from a very unexpected source: a Spanish bank. Celebrating their 130th anniversary, Banco Sabadell surprised and delighted passers-by in Plaça de Sant Roc, Sabadell by playing Beethoven's 'Ode to Joy' with performers from the Vallès Symphony Orchestra, the Cor Lieder Camera, Amics de l'Opera de Sabadell, and Coral Belles Arts. And it started with a little girl giving a 'busker' a coin. It has spread like wildfire, shared as "The Best Coin Ever Spent".

There is so much to like about this little piece of advertising. Make no mistake, the entire video is produced on behalf of the bank and the occasional visual references to the bank's frontage and signage (not to mention the end supers) are enough for the viewer to make, and importantly, retain the connection. But what strikes a chord with the viewer is how emotionally charged the whole video is. Although the 'flash mob' was orchestrated (pun intended) and likely well rehearsed, the reactions of those lucky enough to witness the show are not. They are genuinely surprised, perplexed and most importantly, engaged and entertained. The short performance was enough to disrupt the lives of so many people and give them something different, something so thoroughly memorable that its effects would last far beyond the five minute performance.
The video has created massive ripples across the internet, being viewed over 30 million times through various sources. But every time I watch it, I can't help but get swept up in imagining how incredible it would have been to witness this live. Good advertising by its nature should be disruptive in some measure, and being able to capture the attention of a large group of people for five minutes is an outcome not afforded to many. In an overly saturated world, where we're bombarded with messaging every second of our lives, the ability to present something so fundamentally nice and kind should not be discredited, it should be applauded. It's definitely an innovative and lateral way of thinking for a bank.
Original article here.
Written for Truly Deeply blog.