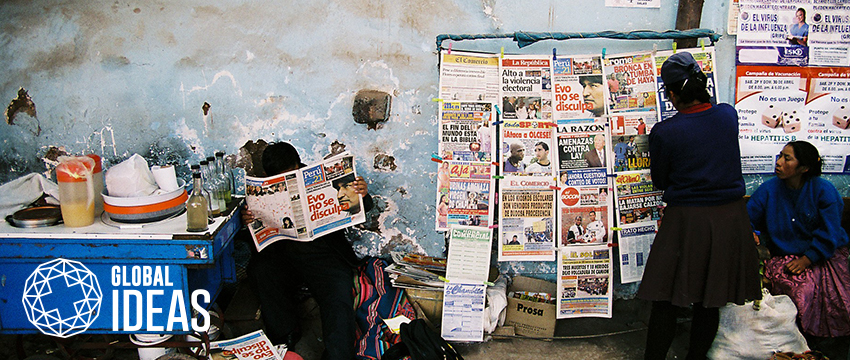 ---
Three years ago I made the conscious decision to move to Melbourne and start a career in some kind of creative work. I had a Masters degree in Visual Communication, a smattering of internationally published work and clients but no real understanding of the world I was getting myself into. Creative fields, particularly design, are competitive at the best of times but that is magnified in a place like Melbourne, where so many people are vying for so few places. I quickly learned that the functional role of a designer was not for me — I didn't work fast enough, I wasn't that technically skilled and my conceptual thinking didn't translate onto the screen. Most importantly, I felt no passion for the trade I was trained in; I knew the value of good design but I wasn't the one to deliver it.
As I learned what I didn't enjoy, I also realised that my strength lay in strategic thinking: I could see the big picture reasonably well and connect the dots in meaningful, realistic ways. I could understand what people are trying to achieve and could map out a path for their success. This realisation lead me to change roles from communications to brand strategy, to digital strategy and now some weird hybrid of everything. But as I moved up the chain and worked with bigger and bigger clients, my natural inclination was towards the not-for-profit world, particularly those with a focus on education. It was the message that mattered to me, not the budget, and underneath it all, I truly cared about the passion and the motivation of the people I worked with.
When I was approached in November 2014 to join the Global Ideas team, what struck me first and foremost was the passion. As a whole, the team genuinely care about what they are doing and are working every day to improve the world around them. That passion is rare, particularly across a whole organisation and it was one of the most attractive draw cards.

As a sucker for a challenge, the other draw card was that the organisation was actually quite fragmented. The board had ambitions beyond their current means and they were lacking alignment on a couple of critical matters. They had achieved a phenomenal amount but had already outgrown their current brand. There was a lack of consistent vision about what to do next. I saw the opportunity as a way to combine all of my various expertise in a way that would allow the organisation to realise some of its lofty ambitions and be a big part of creating something special.
I had never run a brand strategy session solo; I was either a facilitator or the manager whilst someone else directed. It was daunting to try and lead half a dozen intelligent and strong willed individuals to a consensus, allowing them to argue and debate, without losing sight of the objective. In the past I had watched the process unfold, directed by someone with years of experience, yet I was suddenly expected to be the 'expert' in the room.
What I found is that facilitated debate is healthy. It highlights the fragmentation but allows it to naturally evolve. It can be confronting to some people to realise that what they believe may not be the same as their peers, or that they had a different view of the world to the team that was helping them deliver their products. But through this, consensus becomes empowering. At the end of a day or a week or a month, when a group can look back over the way they define themselves and be proud of who they are and what they do, is a wonderful journey to be a part of.
These discussions and debates have lead us to the new Global Ideas brand. It is a much more considered expression of who Global Ideas want to be. The visual language is sophisticated and intelligent and a true representation of the individuals that drive the vision. The overarching strategy now exists to define not only what the brand looks like, but how it operates, who it hires and who it aligns with. Brand thinking is not natural for most people, so instilling that understanding is a big part of what's next.
From a visual point of view, the new brand is light years ahead of where it used to be and this is only the beginning. There is a lot of work still to do, as we create questions and define answers that lead us to continually evolve and improve how we present ourselves to the market, and how we establish credibility and trust with partner organisations and the individuals who become part of our community.

The nature of what we have created means that all three product brands can take on a life of their own, and have distinct visual languages that resonate with their intended audiences. We have mapped a journey for individuals to take that educates, informs, connects and drives them to action and one single brand could not encapsulate that process. The complexity we've created from the outset is designed to future-proof our evolution in some ways, allowing flexibility to respond to the challenges we face and all the wins we achieve. I am truly proud of it.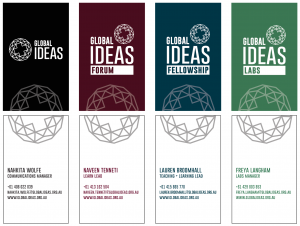 As a failed graphic designer, I'm still on the look out for the people that can help me realise the strategic vision from a visual communications perspective. I don't have those functional skills anymore but am so happy when I get to work with people that do. There is something truly amazing being created at Global Ideas and I believe it's one of the most worthwhile investments of my limited time. Never before have I worked with such a passionate group of individuals — which extends from the board to everyone who works with us.
There are exciting times ahead for us. So much work is going into building meaningful relationships, systems and experiences. The whole group lives up to its name of being interdisciplinary and only with that mindset will lasting positive change occur. One of the biggest realisations I've had is that even though I don't have a 'health' background, I am now a health professional, as I am working to influence the lives of those around me. I am still driven by a desire to educate as, in my view, if you can communicate, you can educate and if you can educate, you can drive progress.
And if you're anything like me, the desire to drive progress is one worth savouring.